25.10.2018
LEGO Masters Series 2 to fill Bake Off Slot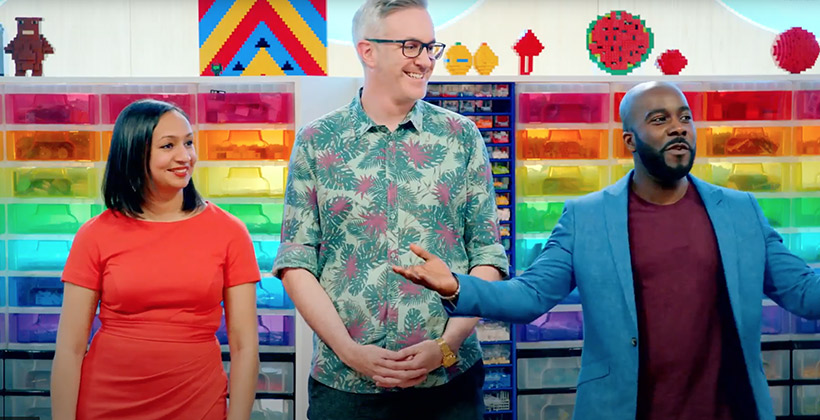 From thousands of applications, eight of the best amateur brick building duos in the British Isles are ready to pit their skills, creativity and imaginations against each other in a series of challenges, to claim the title of LEGO MASTERS CHAMPIONS 2018. Melvin Odoom hosts as the teams do battle in the iconic Build Room.
This year there's a new addition, as scientist and engineer at heart Fran Scott joins as regular co-judge alongside Matthew Ashton, The LEGO Group's Vice President of Design.
To help Matthew and Fran deliberate, each week they'll be joined by a different celebrity guest judge, with famous faces Johnny Vegas, Paddy McGuinness and Chris Ramsey among the faces helping judge this year.
In the first episode, the eight teams must construct a 1.3m long bridge – with no prior planning. But Melvin has a trick up his sleeve and will be driving a weighted remote-controlled dumper truck across each one. Are the teams' bridges strong enough? And who will come crashing down to earth?
With the first build completed the eight teams will then reach for the sky as they construct their own floor of the LEGO Masters skyscraper. This challenge will test their building skills, creativity and storytelling, before stacking each floor on top of each other in a towering, awe-inspiring reveal.
To help scrutinise the builds, Matthew and Fran will be joined by comedian and plastic brick fan Rob Beckett to decide which team will be the first to be sent home.
LEGO Masters launches 6th November at 8pm on Channel 4.
Executive Producer – Steph Harris
Series Producer – Ross Curran
Production Company – Tuesday's Child East
http://www.channel4.com/info/press/programme-information/lego-masters-2018
All News